24 Unique French Gifts for Christmas to Delight Your Loved Ones
Travel to the heart of France without leaving your home this festive season, as we unveil the top 10 unique French gifts for Christmas that are guaranteed to evoke the charm and elegance of this beautiful country. 
From mouth-watering delicacies to enchanting home décor, we have hand-picked a captivating selection of presents that will leave a lasting impression on your loved ones during this Christmas season.
So, without further ado, let's embark on a magical journey to discover the perfect French gift ideas for Christmas that will make this holiday season truly unforgettable, and of course, without being so cliché (I promise, no more Eiffel Tower or the French beret!)
1. La Maison Du Chocolat Coffret Chocolate Box
No one can say no to a box of chocolates, especially when it comes from the world-renowned La Maison Du Chocolat. This luxurious gift box is filled with an assortment of delectable chocolate treats, beautifully packaged in their signature black and gold box. 
Their signature black and gold gift boxes, brimming with an enticing mix of ganaches, pralinés, and dark chocolate treats, are offered in a range of sizes – 24, 40, 60, or even a grand 84-piece box for the ultimate chocolate lover.
2. Pierre Herme Chocolates
Take your loved ones on a chocolate journey like no other with Pierre Herme, the "Picasso of Pastry" and the mastermind behind some of the world's most exquisite chocolates. 
With flavors such as rose, passion fruit, and gingerbread, these unique chocolates will transport your taste buds to Paris with every bite. The elegant packaging adds an extra touch of sophistication to this already exquisite gift.
3. French Jams from Christine Ferber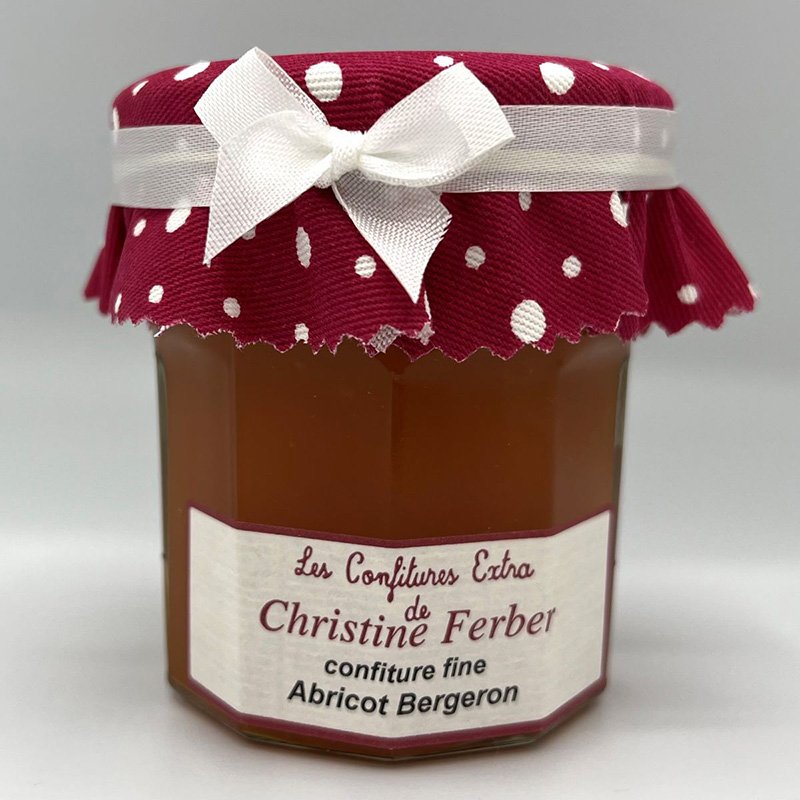 Although this gift may not sound that fancy, it is, in fact, one of the most sought-after presents from France. Christine Ferber has been crafting exquisite jams since 1992, using only the best locally sourced ingredients and traditional copper jam pots. 
Her famous "confitures", or fruit preserves, are available in various unique flavors such as rhubarb and rose petal, chestnut with vanilla, or apricot with honey and lavender.
These jams are perfect for adding a touch of French elegance to your breakfast table, making it one of the best French gifts for your Francophile friend.
You can buy these jams via Edélices.co.uk, a popular online gourmet food shop that delivers worldwide. In the US, you can find them on Ann Marie's.
4. French Cheese from Androuet
No favorite French gifts guide is complete without mentioning cheese, the epitome of French gastronomy. Androuet is a renowned fromagerie in Paris, known for its artisanal cheeses made from raw milk and traditional methods.
Their selection includes well-known favorites such as Brie and Camembert, as well as lesser-known regional varieties like Comté and Roquefort. For a unique twist, try their truffle-infused Brie or blue cheese aged in Sauternes wine.
Not only do they offer a wide range of cheeses, but Androuet also provides gift sets perfect for any cheese lover. And you know what? You can pair these cheese with the delicious jams from Christine Ferber for a truly French cheese board experience.
5. Le Creuset Signature Enameled Dutch Oven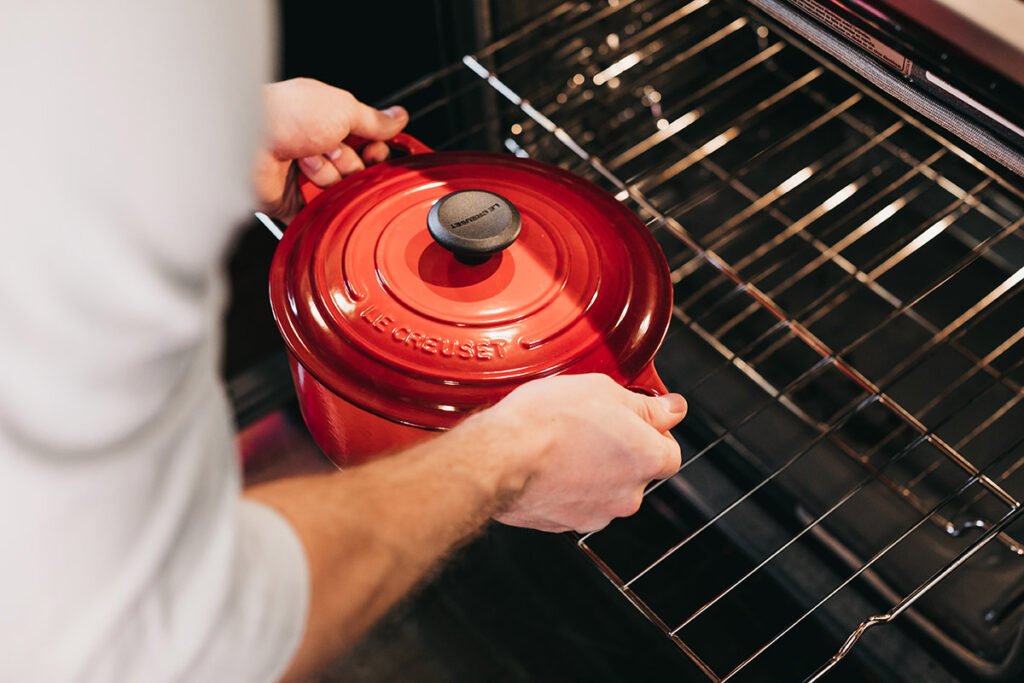 Even if you're not a fan of cooking, this beautiful Dutch oven from Le Creuset is guaranteed to make you want to whip up some French-inspired dishes. With its vibrant colors and high-quality materials and craftsmanship, this iconic kitchen item will add a touch of sophistication to any home.
One thing you have to remember when gifting a Le Creuset Dutch oven is to choose a color that will complement your loved one's kitchen décor. From classic French blue to pastel pink, there is a shade for every taste.
6. "Diner À La Maison: A Parisian's Guide To Cooking And Entertaining At Home" By Laurent Buttazzoni
What awesome gift  pairs perfectly with a Le Creuset Dutch oven? A French cookbook from a Parisian, of course. This beautiful book by Laurent Buttazzoni offers an intimate look into the Parisian lifestyle, with recipes and tips for hosting elegant dinner parties at home.
From classic French food to modern twists on traditional recipes, this cookbook is a must-have for anyone who loves to cook and entertain. Plus, the stunning photography will make it a beautiful addition to any coffee table.
7. "Mastering the Art of French Cooking" by Julia Child
Unless you've been living under a rock, you've probably heard of the legendary Julia Child and her famous cookbook. This classic French cooking bible has been inspiring home cooks for decades and is still relevant today.
Whether your loved one is a seasoned chef or just starting to explore French cuisine, this book is an essential addition to their collection. With detailed instructions and illustrations, anyone can master the art of French cooking with Julia's guidance.
8. Ormaie Paris The Sandalwood Soaps Set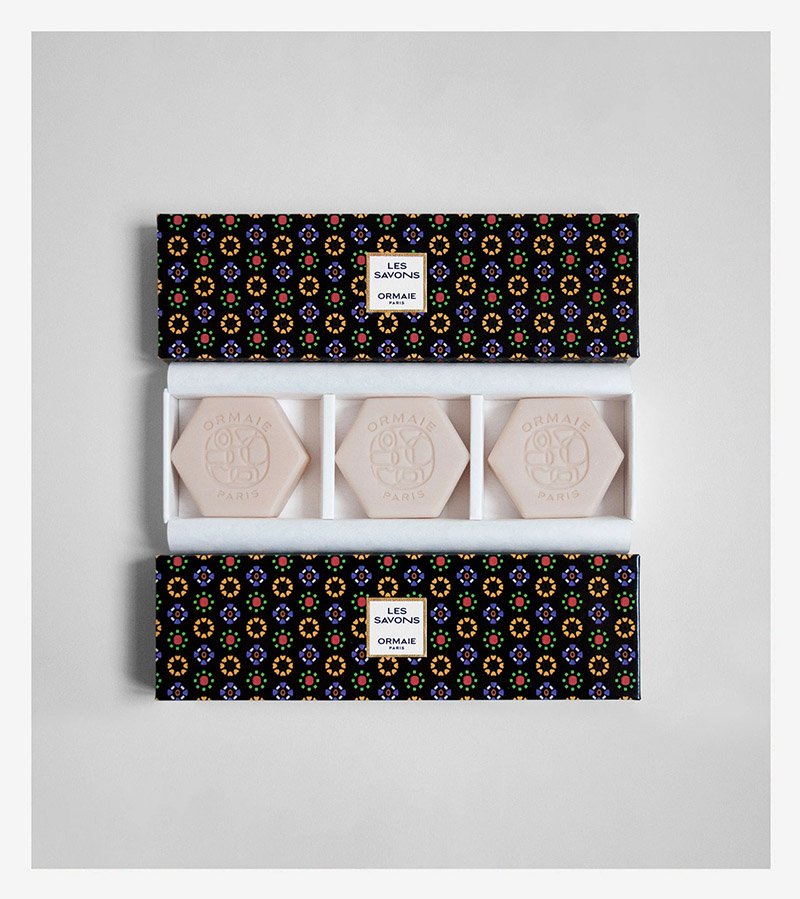 For the beauty lovers in your life, treat them to a luxurious soap set from Ormaie Paris, a French perfume house known for its sustainable and natural products. 
The Sandalwood set includes three handmade soaps crafted with organic shea butter, coconut oil, and olive oil. The intoxicating sandalwood scent will transport your loved one to the serene forests of India.
9. Merci Handy Soap
Still talking about soap, but this one is a little different. Merci Handy brings a touch of humor and fun to your everyday routine with their range of colorful and scented cleansing gels. If your beloved one is a fan of unicorns, these sparkling hand soaps will make the excellent gift for them.
10. Savon De Marseille
For a more traditional and authentic French gift, opt for a block of Savon de Marseille. This famous soap has been crafted since the 17th century using a blend of olive oil, sea salt, and ash from Mediterranean seaweed. 
Known for its gentle cleansing properties, this soap is ideal for all skin types and can also be used as a stain remover or for washing delicate fabrics. Plus, its minimalistic packaging makes it a stylish addition to any bathroom.
This Savon de Marseille is the perfect Christmas gift for environment-conscious individuals as it's 100% natural and biodegradable.
11. French Macarons from Ladurée
No French gift guide would be complete without mentioning these iconic treats from Ladurée. These delicate and colorful macarons are famous worldwide for their delicious flavors and exquisite packaging. 
Choose from a variety of seasonal flavors, including the classic vanilla and rose, or surprise your loved one with one of their limited edition collections.
12. Laguiole En Aubrac Waiters Corkscrew Wine Opener
For wine-lovers, there's no more useful gift than the Laguiole en Aubrac, a luxurious corkscrew wine opener that will make opening a bottle of French wine feel like an event. 
Handcrafted in France, these stylish and high-quality wine openers come in a variety of colors and materials, making them not only functional but also a beautiful addition to any bar cart.
13. A Bottle of St. Germain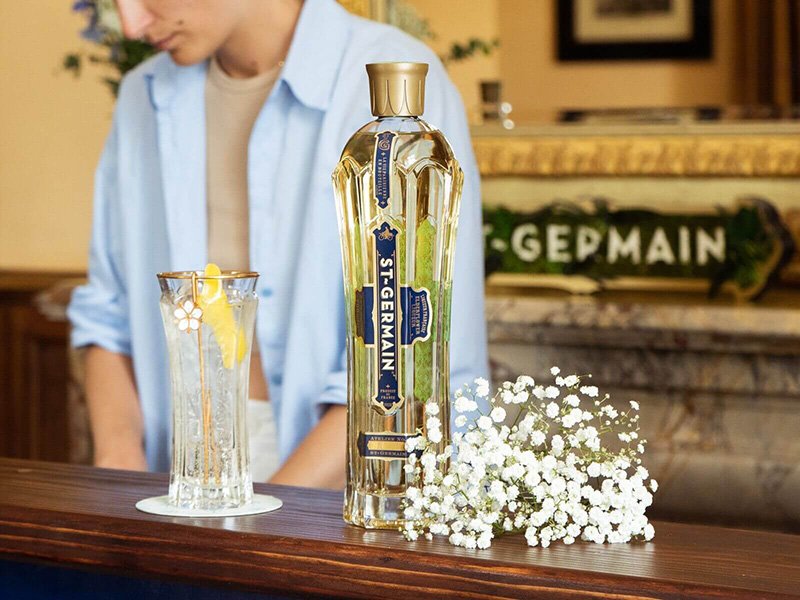 Of course, you cannot use a wine opener without a bottle of wine, but why not switch things up and gift a bottle of St. Germain instead? This elegant and sophisticated French liqueur is made from elderflower blossoms and adds a unique flavor to cocktails or even a simple glass of champagne.
This French liqueur goes well with a variety of cocktails, making it a versatile gift for any cocktail enthusiast. It can also pair nicely with a crème brûlée dessert. The sweet, floral, and slightly citrusy flavors of St. Germain can complement the creamy and rich custard of the crème brûlée.
Unlike other French gifts, this one can be enjoyed immediately, making it perfect for last-minute gifting. Plus, the stunning Art Deco-inspired bottle will look beautiful on any bar shelf.
14. Or a Bottle of French Champagne
If you want to stick to tradition, then a bottle of French champagne is always a winner. From the iconic Moët & Chandon to the luxurious Dom Perignon, there is a variety for every budget and taste.
Add a touch of indulgence by gifting a vintage bottle or opt for a personalized label to make your gift even more special. Even if you are on a tight budget, you can still impress with a bottle of lesser-known yet equally delicious champagne.
And why not make it a gift set with accompanying flutes or an elegant ice bucket? This will surely be a memorable present for anyone who appreciates the finer things in life.
15. Cire Trudon Madeleine Candle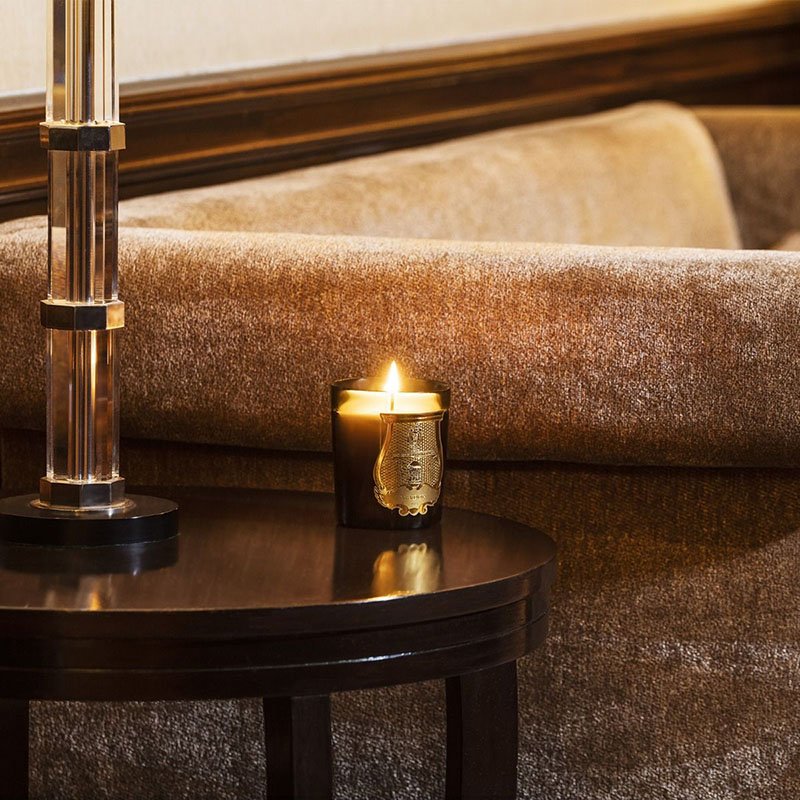 Candles are actually a classic gift for any occasion, especially during the holiday season. If you're looking for something special to give to your loved ones this year, consider the Cire Trudon Madeleine Candle.
Made by the world-renowned French candle maker Cire Trudon, the Madeleine Candle is a luxurious and elegant addition to any home. Its warm and inviting scent of honey, lemon and vanilla will surely bring warmth and joy to your loved ones' homes during the winter season.
Not only does this candle smell amazing, but it also comes in a beautiful hand-blown glass vessel with the iconic Cire Trudon emblem etched into it.
16. Avène Thermal Spring Water Spray
Pamper your loved ones with the gift of hydration and relaxation this Christmas with Avène Thermal Spring Water Spray. This unique French product is sourced from the heart of the Cévennes Mountains, where it is naturally enriched with minerals and trace elements.
The Avène Thermal Spring Water Spray has a soothing effect on the skin and can be used to refresh and hydrate the face and body throughout the day. It's also perfect for soothing sunburns, setting makeup, and calming skin irritations.
17. Saint James Authentic Breton Stripe Shirt
Nope. This stripe shirt is definitely not a thing of the past. In fact, it has become a timeless fashion piece that is loved by many, including celebrities. 
Made in France since 1889, this shirt embodies the traditional nautical style with its iconic stripes and boat neckline.
It's made from high-quality cotton and is perfect for both men and women. Plus, it's a versatile piece that can be dressed up or down, making it a great gift for anyone on your list.
18. Perfume from Fragonard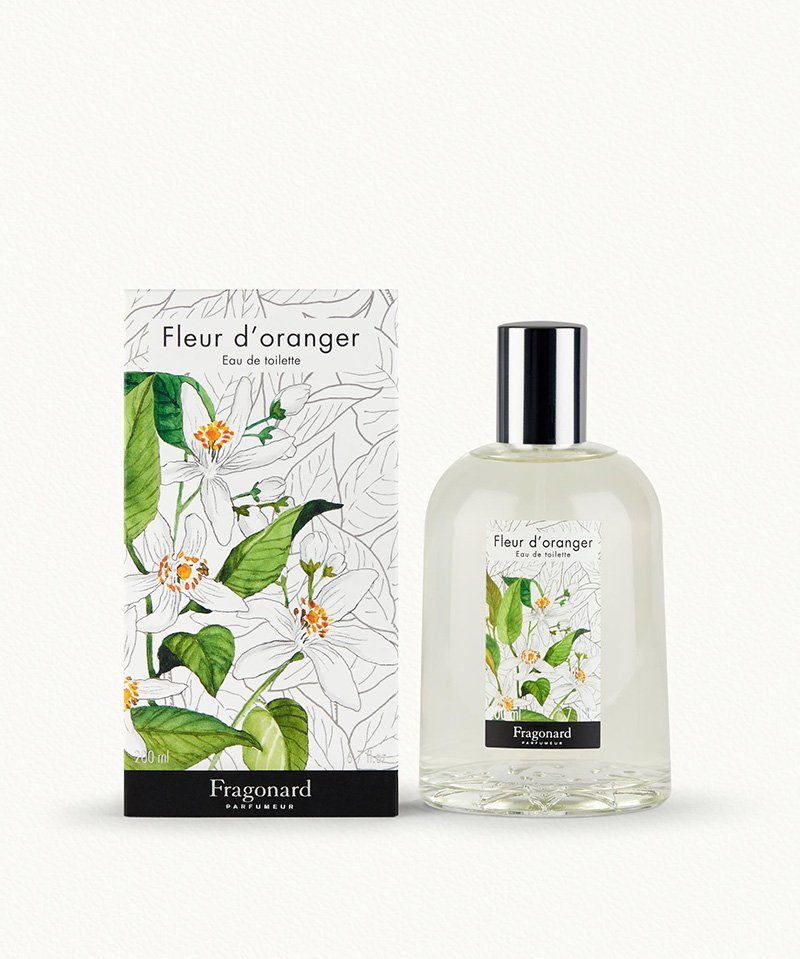 Nothing captures the essence of France quite like a perfume from Fragonard. Established in 1926 in Grasse, the perfume capital of the world, this family-owned brand is known for its exquisite scents and beautiful packaging.
Whether you're looking for a gift for a loved one or simply want to treat yourself, Fragonard has an extensive range of perfumes to choose from.
From light and floral scents like Fleur d'Oranger and Etoile to more intense fragrances like Belle de Nuit and Diamant, there's something for every taste.
But what makes these perfumes truly special are the hand-painted bottles, each one a work of art inspired by different aspects of French culture and history. It's like owning a piece of France in a bottle.
19. Mariage Frères Tea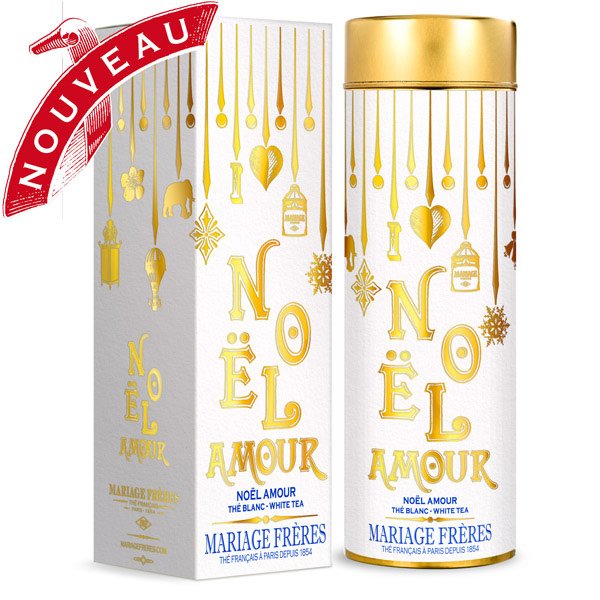 If you're about to gift a tea-lover, look no further than Mariage Frères. This luxury tea brand has been crafting and blending teas since 1854 and is renowned for its exceptional quality and taste.
From classic black teas to herbal infusions and unique blends, Mariage Frères offers a wide variety of choices that will suit any palate. Each tea comes in a beautifully designed tin, making it not only delicious but also aesthetically pleasing.
20. Fleur De Sel De Guerande
Also known as the "caviar of salts," Fleur De Sel De Guerande is a gourmet salt harvested from the coast of Brittany (Bretagne in French). Its delicate crystals and rich mineral content make it a prized ingredient among chefs and foodies alike.
Give your loved ones the gift of flavor with this unique French product that will elevate any dish. It also comes in beautiful packaging, making it a perfect addition to any Christmas gift basket.
21. French Lingerie From Ysé
In case you're a guy reading this list to find a gift for your girlfriend or wife, today is your lucky day. Step away from the clichéd lingerie gift sets and surprise your loved one with a piece of French lingerie from Ysé.
Designed and made in France, Ysé's lingerie is all about comfort, elegance, and femininity. Their pieces are not only beautiful but also comfortable to wear, making them perfect for everyday wear or special occasions. Additionally, they have a wide range of sizes and styles, ensuring that there's something for every body type.
22. Diptyque Set Of 5 Eaux De Toilette
I'm sure you're familiar with Diptyque, the luxury fragrance brand that offers unique and captivating scents.
This holiday season, give your loved ones a set of 5 Eaux De Toilette from Diptyque. The set includes their most popular fragrances: Do Son, Eau des Sens, Philosykos, Eau Rose, and Tam Dao.
It's the perfect way to introduce someone to the world of French perfumes or add new scents to their collection.
23. Diptyque Candle Carrousel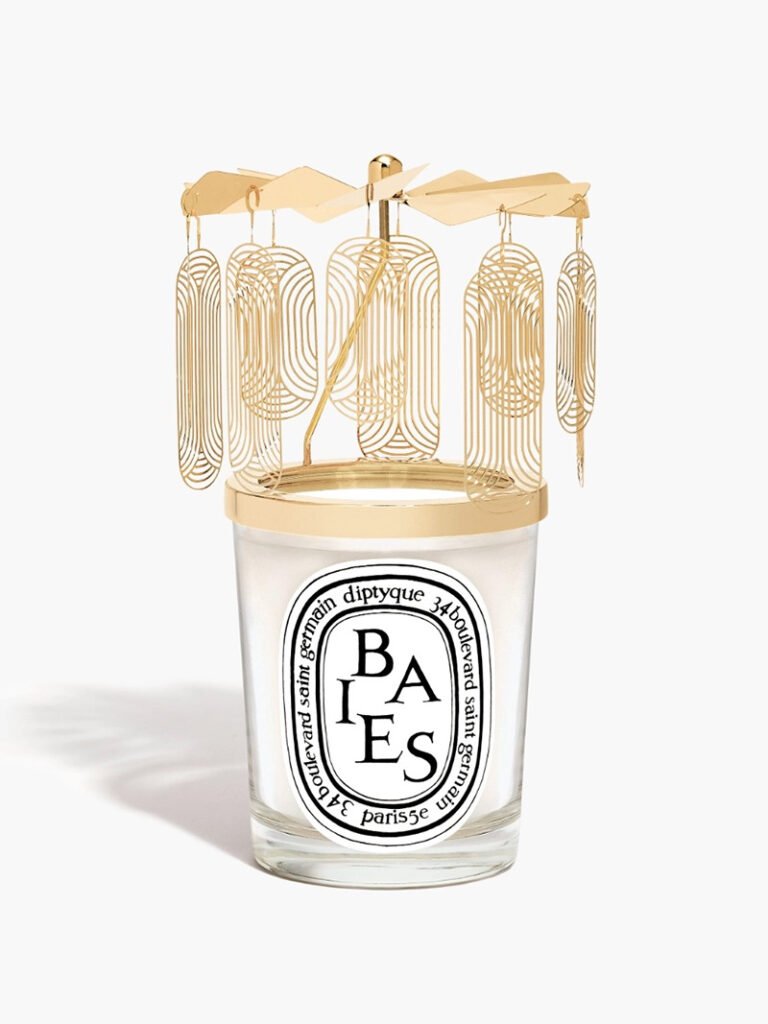 This little gem from Diptyque is not just a candle, but also a decorative piece that will add a touch of magic to any home. The Candle Carrousel is designed to fit any standard sized Diptyque candle and rotates when the candle is lit, creating beautiful patterns with the light.
It's a perfect present that will surely impress anyone on your list, especially those who love to create a cozy and warm atmosphere in their homes, the French style.
24. Astier De Villatte Antoinette Incense Holder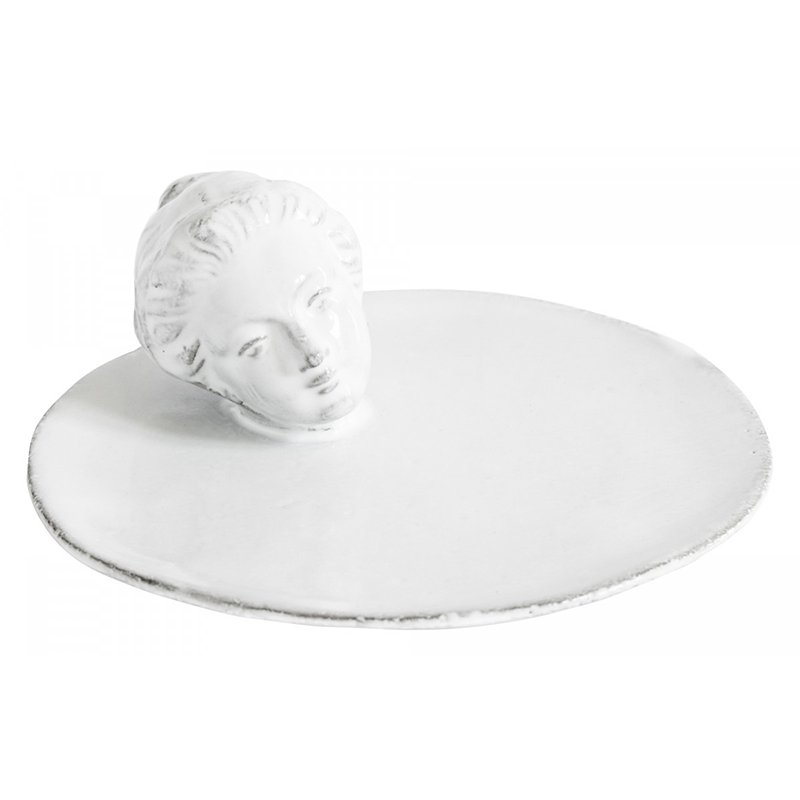 Last on this list, but definitely not least, is the Astier De Villatte Antoinette Incense Holder. This stunning piece is handcrafted in Paris and features a delicate gold leaf design on white ceramic.
Not only does it hold incense sticks, but it can also double as a beautiful decorative piece for any room. It's a perfect gift for someone who loves unique French gifts or has a love for home decor. Or both!
Plus, with Christmas just around the corner, this incense holder would make a great addition to any festive decorations. It's the perfect way to add a touch of Parisian elegance to your holiday celebrations.
Before You Hit that Order Button
It's this time of the year where we tend to go a little bit overboard with our spending, and I totally get it. But you what what the best part of this list is?
It's that it doesn't have to just be a Christmas presents. These items can be perfect for any occasion – birthdays, anniversaries, or even as a special treat for yourself.
Save it for yourself for the next time you travel to France, or order it online whenever you feel like treating yourself to a little something special. After all, what better way to embrace the French lifestyle than incorporating some of their unique and luxurious products into your everyday life? 
And, finally, before you hit that order button for these amazing French Christmas gifts, take a moment to consider supporting small businesses this holiday season.
Many of the brands mentioned in this article are family-owned or local businesses, and your support can make a huge difference to them. So let's spread some holiday cheer by giving unique French gifts and supporting small businesses in the process. Happy Christmas shopping!