Cottagecore Foodie: Making Wildflower Cupcakes Has Never Been Easier
Summer is in full swing, and what better way to celebrate it than with a delicious treat? If you're looking for something different and special, why not whip up some wildflower cupcakes?
This easy-to-follow recipe will have you enjoying the sweetest of pastel delights that are perfect for summertime. Whether it's a birthday party, bridal shower, or just Tuesday night, these cupcakes are sure to be a hit. Plus, they'll make your kitchen look like an Instagram superstar!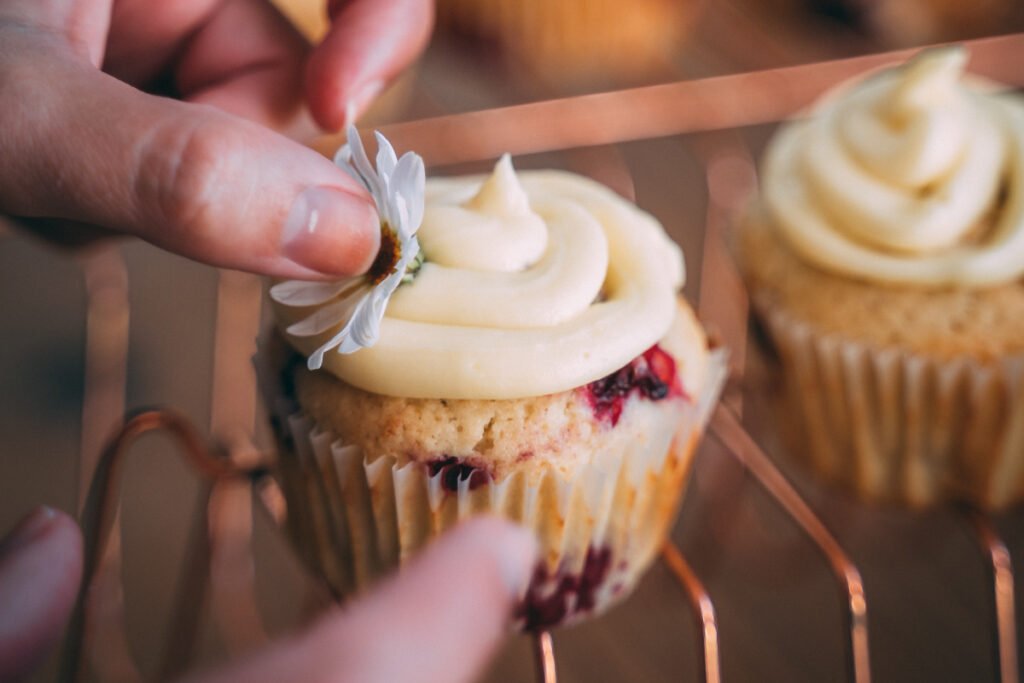 Ingredients
2 cups all-purpose flour
2 tsp baking powder
½ tsp salt
1 cup unsalted butter (room temperature)
1 ¼ cups sugar
4 large eggs (room temperature)
2 tsp vanilla extract
¾ cup whole milk (room temperature)
Food coloring: yellow, blue, pink, and green
Edible flowers for decoration: pansies, daisies, cornflowers, and violas work best
White frosting of choice: store-bought or homemade buttercream frosting works well
Sprinkles of choice: pastel colors for the best overall aesthetic
For the Frosting (If You Opt for Homemade Frosting)
4 tbsp unsalted butter (room temperature)
4 cups powdered sugar
1/3 cup heavy cream
Edible Wildflowers
Wildflowers are the star of these cupcakes, so be sure to get some that are edible. Look for wildflowers like pansies, daisies, cornflowers, and violas in your local supermarkets or online. Edible flowers, in general, must be graded as food-safe, so make sure you read the label before purchasing.
Remember that not all wildflowers are edible, and even if you don't actually mean to eat them, putting wildflowers on your cupcakes can still be dangerous if the wildflowers have been treated with pesticides or if they are poisonous.
If you're really uncomfortable with the idea of having wildflowers on your cupcakes, you can always use sugar flowers or other decorative elements instead to compensate.
How to Bake Wildflower Cupcakes
Preheat oven to 350 degrees F and line two cupcake pans with 12 paper liners each.
In a medium bowl, sift together flour, baking powder, and salt, then set aside.
In a large bowl using an electric mixer, cream together butter and sugar until light and fluffy. Add one egg at a time and beat until fully incorporated before adding the next one. Add vanilla extract and mix until combined.
Alternately add the dry ingredients from step 1 and milk in three parts each, starting with dry ingredients and ending with milk until just mixed in between additions. Do not overmix!
Divide batter evenly among four separate bowls. Add food coloring to each bowl until desired colors are reached (use more yellow than pink). If you don't want to have color, feel free to skip this step.
Spoon (colored) batter into prepared pans filling each about ⅔ full – about ¼ cup per liner. Bake for 18 – 20 minutes or until a toothpick inserted into the center comes out clean. Allow cupcakes to cool completely before frosting and decorating.
How to Decorate Wildflower Cupcakes
To start decorating wildflower cupcakes, you can either use your favorite buttercream frosting or make some yourself if you prefer. If you opt for the latter, here are three simple steps to make your own frosting:
How to Make Frosting
In a large bowl using an electric mixer, beat butter until creamy.
Slowly add powdered sugar one cup at a time and mix until fully incorporated.
Beat in heavy cream until desired consistency is reached.
How to Add Wildflowers
To assemble wildflower cupcakes, start by adding white frosting to each cupcake with an offset spatula or a piping bag fitted with a large round tip. You can also use a spoon or rubber spatula for a more rustic, cottagecore look.
After frosting, top each cupcake with wildflower petals in whatever pattern you like, and add festive sprinkles if desired. You can also add other decorations like edible glitter or gold leaf for extra pizzazz, but actually, you won't need it with wildflowers — they are beautiful enough on their own!
Enjoy your cottagecore cupcakes and enjoy the beauty of nature in every bite!
Safety Tips for Edible Wildflowers
Although wildflowers can make amazing and beautiful decorations for cupcakes, you should always take caution when using wildflowers and make sure they are safe for consumption.
Make sure wildflowers have not been treated with pesticides or other chemicals that could be potentially dangerous if ingested. If you want to be extra cautious, you can buy wildflowers labeled as "edible" and meant specifically for decorating food. These flowers are typically grown without chemical fertilizers and pesticides, making them safe for consumption.
Also, please make sure wildflowers are not poisonous before using them on cupcakes. Make sure to do your research and consult a professional if you're not sure of the wildflower type you have or its edibility.
Research wildflower varieties before using them, and if you are still unsure, it is best to err on the side of caution and avoid wildflowers altogether and use sugar flowers or other decorative elements instead.
The Editor's Note
Are you ready to create some cottagecore magic? With this oh-so-easy wildflower cupcake recipe, you can whip up something beautiful in no time at all! Perfect for any special occasion, these delicious desserts are sure to be remembered long after they've been devoured!