How to Style and Wear a T-Shirt Dress Like a Fashionista
Hello, my stylish friends! Today, we're going to dive into the fabulous world of T-shirt dresses. Not only are they super comfortable, but they can also be very fashionable when styled just right. 
Well, one of the most challenging parts is finding the right T-shirt dress that suits you best. It should both flatter your figure and be comfortable to wear. Yet it should not look like you just threw on a baggy T-shirt and call it a day!
So, let's start with the basics and move on from there to get the most out of your T-shirt dress. 
What is a T-Shirt Dress?
A t-shirt dress is essentially an elongated version of the classic t-shirt. It's usually made with a lightweight and breathable fabric like cotton, offering the same comfort and ease as your favorite classic tee. 
T-shirt dresses come in a variety of styles and lengths, with options like mini, midi, and maxi dresses, making them one of the most favorite go-to pieces when it comes to casual dressing.
Then, the color and design choices are really vast, meaning you can always find the perfect t-shirt dress to match your style.
Think a shirt, a T-shirt dress often comes in solid colors or playful patterns. The possibilities are nearly endless, so you can find a T-shirt dress for any occasion. 
How to Style a T-Shirt Dress for Different Occasions
Once you have your perfect t-shirt dress in hand, it's time to style it according to the occasion and your own personal sense of fashion. Here are some of our favorite ways to get you started. 
Casual Look: Strolling Around the City 
To make your T-shirt dress look casual yet stylish, go for a basic t-shirt dress in a solid color or a simple pattern. Then throw on a pair of sneakers and a leather or denim jacket for an instant layer of cool street style vibe. An oversized cardigan on a windy day will also do the trick!  
Pair it with casual sneakers or ankle boots for a comfortable yet fashionable look. During the summer, choose a pair of sandals for a nice, breezy look instead. 
Finish the outfit with a crossbody bag and sunglasses for that city-girl vibe. You can also accessorize it with a statement belt or even a baseball cap if you like. But even a minimalistic look works in this case too.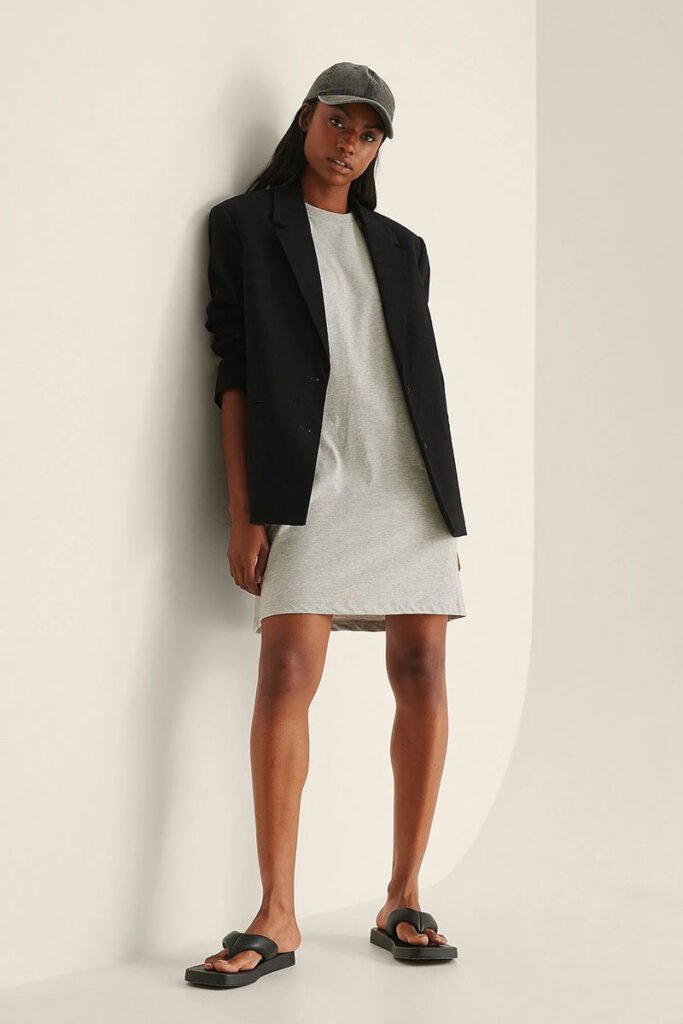 Brunch with Friends
A brunch with friends will not require a super-fancy look, but you can still style your t-shirt dress to impress. Start with a flowery midi or maxi length t-shirt dress. You can also opt for a t-shirt dress with intriguing details such as lace trim, ruffles, or a bold print — just make sure to keep the rest of your look muted. 
Add a statement belt to cinch your waist, creating a flattering silhouette. Do not feel like it? Then layer it up with a blazer or a leather jacket. For footwear, choose mules, open-toe booties, strappy sandals, or cute wedges for a dressier vibe. 
Finally, accessorize your look with chunky earrings and a baguette shoulder bag for an extra stylish touch. A big tote bag works too for a more casual look, especially if you are carrying a few things around.
Office Chic
You want to look professional, but still keep your signature sense of fashion? No problem! T-shirt dress can be dressed up just like any other dress, and you can easily rock it at the office. 
Go for a midi length or maxi t-shirt dress in a more structured, wrinkle-resistant fabric. Opt for colors like black, navy blue, or grey, or subtle patterns such as stripes — these are classic work staples and will never go out of style. 
Then add some office-appropriate accessories, such as a structured blazer or cardigan for a professional touch. If you want to dress for a casual team meeting, for example, you can simply wear the t-shirt dress on its own. 
For footwear, you can opt for formal pumps, block heels, or even flats. And finally, accessorize your look with a statement necklace or minimalistic earrings depending on the level of formality you want to achieve. 
Pro tips: Depending on your company's policy, you may want to double check if the office dress code allows for t-shirt dresses. If not, maybe you should stick to a classic shirt dress or pencil skirt instead and save the t-shirt dress for other casual occasions.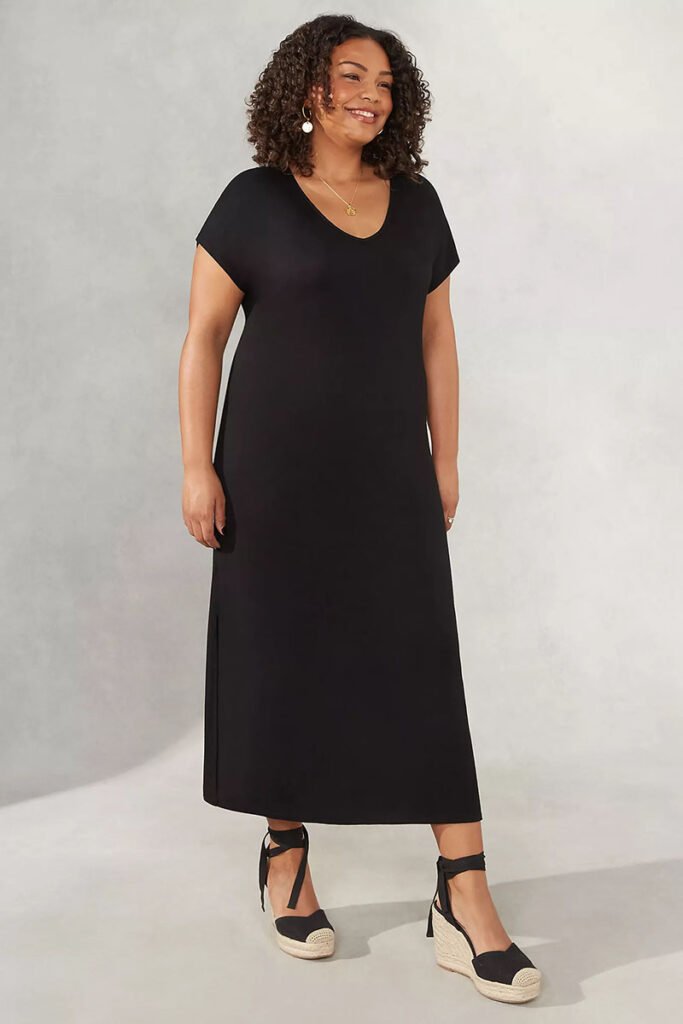 Date Night Out
If you're going out for a more casual dinner date and want to keep things comfortable yet sexy, a t-shirt dress is the way to go. It will give you the perfect mix of comfort and style without looking too over-the-top. 
Start with a mini t-shirt dress in a bold color, such as red or yellow — these hues are always great for creating an eye-catching look. Or go for a lace t-shirt dress to add some romance into the mix. 
Or, pick a t-shirt dress with a flattering cut, such as an off-the-shoulder or v-neck style. You're out for a date, right? So it's time to make a statement.   
Then, elevate the dress by adding bejeweled earrings or a layered necklace. You can also add a choker necklace or bracelet for a more daring look.  
Pull off a chic look with heeled sandals or ankle booties for that extra touch of glamour. Top off the ensemble with a sleek clutch or a small shoulder bag.
Pro tips: Again, double check the dress code of the venue you're going to for any restrictions. If the place is a fancy restaurant or a nightclub, you may want to reconsider your outfit and opt for something more formal.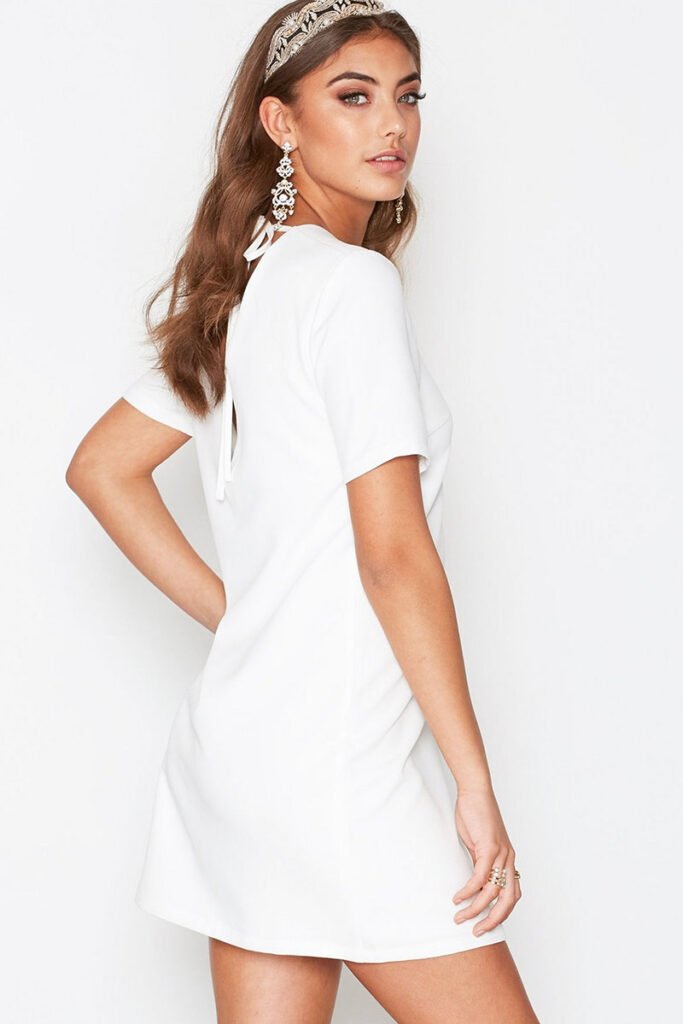 Other Casual Occasions
Think an appointment or a quick coffee meetup with your friends? Or maybe a visit to your grandparents' place? Or even a quick shopping session? For any of these occasions, just keep your style casual but still polished. No need to go over the top or dress up like you're going out for a date. 
Pick a basic midi t-shirt dress in solid colors such as black, white, grey, etc., and throw on some comfortable shoes like sneakers, loafers, flat sandals, or ballet flats. 
Accessorize it with a belt or a scarf in more vibrant colors such as yellow, pink, blue — this way you will keep your look simple and still make a statement. 
You can also bring out your creative side by customizing the dress with patches or pins for an extra personal touch, depending on the occasion. Maybe you would like to keep it as simple as possible when it comes to visiting your grandparents, but why not add a bit of your own style when you're visiting the city?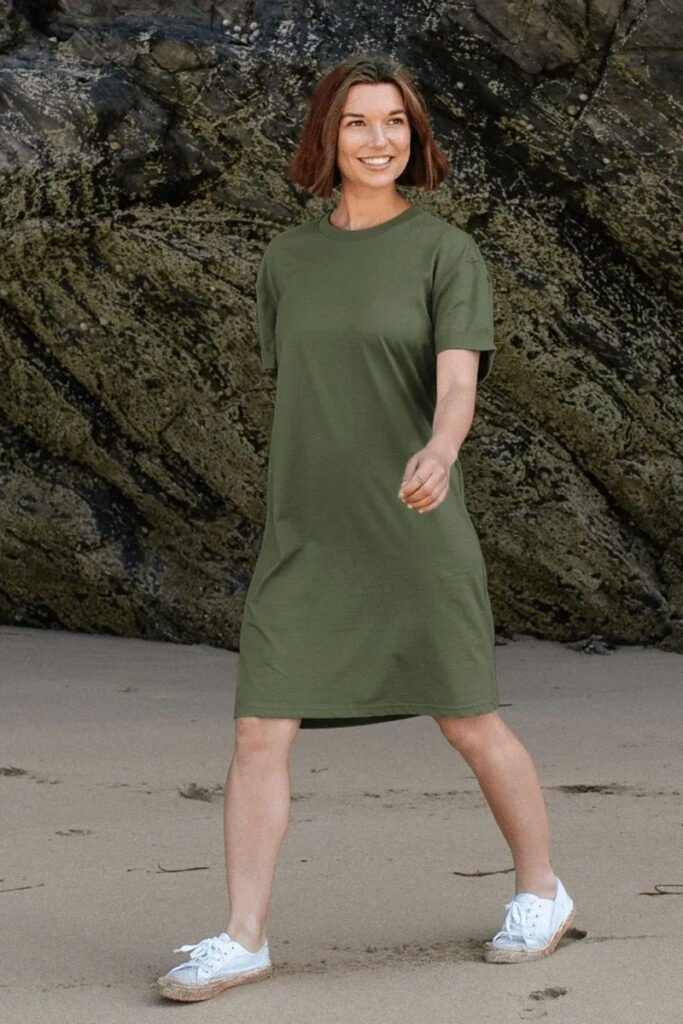 Tips to Wear T-Shirt Dresses to Flatter Your Body Type
Although T-shirt dress is a great style for all body shapes, there are still some subtle modifications you can make to ensure that you look your best. Now, consider your body shape, and follow these tips: 
Pear Body Shape
If you have a pear body shape, look for t-shirt dresses with detailing at the top and a more fitted bottom. This will help to balance out your figure and bring attention up top. 
On the other hand, stay away from skater dresses or shift dresses that can add too much volume on the lower half. 
Apple Body Shape
If you have an apple body shape, look for t-shirt dresses with a slightly fitted waist and an A-line skirt to cinch your waist and create a flattering silhouette. 
Stay away from tailored garments like bodycon dresses that will hug your curves and emphasize your mid-section. Instead, go for less fitted and more flowy styles. 
Hourglass Body Shape
Hourglass body shape will best suit t-shirt dresses that flatter your curves. Opt for bodycon dresses or those with a slightly fitted waist to create an hourglass figure. 
Also, go for more statement accessories to add the extra oomph factor and make your look stand out even more. 
Boxy styles or shift dresses should be your no-go, as they tend to flatten your curves and add bulk on the sides. 
Rectangle Body Shape
A rectangle body shape will look great in t-shirt dresses with a slightly fitted waist. This will draw attention to your mid-section and create the illusion of curves. 
Flowy styles should be avoided as they can make you look wider on top and bottom. Instead, go for details such as ruching or pleats that add texture to the dress. 
For Plus-Size Bodies
You know that we like most about t-shirt dresses? They are very forgiving and can easily flatter your curves. Look for styles that cinch your waist and add volume to the skirt. Go for bold prints such as abstracts or animal prints, which will draw attention up top.
Flowy garments should be avoided as they tend to make plus-size bodies look larger than they are. If you want to go for stripes, choose the vertical ones to elongate your figure and to create a slimming effect, or opt for narrow stripes that will balance your curves and make them look more defined.
Pro tips: Always remember to dress for yourself and not anyone else! Your clothes should make you feel confident and powerful — regardless of your body shape or size. Plus, always choose comfortable and breathable fabrics like jersey or organic cotton to avoid feeling too constricted in your clothes. 
Tips for Washing & Maintaining T-Shirt Dresses
Maintaining and washing your t-shirt dresses is not difficult, but it's important to follow the instructions on the tag in order to keep them looking like new. 
In most cases, this item will only need as much care as you would use for your own t-shirts, unless it is made from more delicate fabrics. 
First of all, always check for colorfastness by testing a small area of the dress first before placing it in the wash. This will prevent the colors from running. 
Most t-shirt dresses are machine washable, but it's best to use a gentle cycle with lukewarm water and mild detergent. Avoid using bleach or fabric softener, as they can damage the dress fabric. 
If your garments are made of more delicate fabrics like silk or lace, hand wash them using a gentle detergent and cold water. 
Finally, always hang your t-shirt dresses to dry. Avoid drying them in direct sunlight or in the tumble dryer as this can damage the fabric. 
Since it's a seasonal item, storing it for future use is essential. Make sure to store your t-shirt dresses in a cool and dry place away from direct sunlight. Wrap them with acid free tissue paper or put them in garment bags to avoid dust and moisture. 
Then, next time you wear it again, always give it a light steam or iron before putting it on. This will help to keep the fabric looking fresh and new. 
No matter what type of occasion you're attending, a t-shirt dress can be your go-to item for effortless and timeless style. With these simple tips, you'll always look stylish and fashionable without sacrificing comfort! 
Frequently Asked Questions
If you still have questions about t-shirt dresses, here are some of the most commonly asked ones that may help you.
Q: What size of t-shirt dress should I buy? 
A: The most important thing is to make sure the garment fits properly. Don't go for anything too tight or too loose; make sure it's just relaxed fit and it feels comfortable on your body. 
Check your measurements against the size chart provided by the store to get a better idea of what size you should buy. If the dress is not made from stretchy fabrics, make sure to add an extra inch or two for comfort and movement. 
Q: How can I accessorize a t-shirt dress?
A: Accessorizing a t-shirt dress is straightforward — you don't need much! A pair of statement earrings, a stylish belt, or a scarf are all great pieces to complete the look. 
Plus, since t-shirt dresses tend to be quite casual in style, they are perfect for pairing with more embellished accessories. Think chunky necklaces, bold bracelets and arm cuffs — you'll be sure to make an eye-catching statement! 
Q: Can I wear a t-shirt dress in the office? 
A: Yes, you can! However, it depends on your specific job and office environment. Some offices may require more formal attire such as blazers or trousers, while others may allow for more casual styles such as t-shirt dresses. 
If you're unsure, try to stick to more neutral colors and accessorize with a smart blazer or long cardigan. This will make the dress look more office-appropriate without compromising on style. 
Q: Can you wear a t-shirt dress with sneakers?
A: Absolutely! T-shirt dresses are extremely versatile and can be worn with many different types of shoes. Sneakers are an especially great choice if you're going for a more casual look. Choose colorful, eye-catching ones to jazz up your outfit even more.
Q: Is it possible to dress up a t-shirt dress?
A: Yes, you can easily dress up a tee shirt dress with the right accessories. Choose statement pieces like a statement necklace or belt to add more texture and interest to your look. You can also opt for heels or wedges instead of flats or sneakers to elevate the entire ensemble. 
Finally, if you're going for an even more formal look, try pairing your t-shirt dress with a structured blazer or cardigan. This will add an instant touch of sophistication to your outfit and make you look more polished. 
Q: Long sleeves vs. short sleeves – what should I choose?
A: It depends on the occasion and your personal preference. Long sleeves will be great for cooler weather days, but they are also perfect for office settings, or more formal occasions (but not that formal, ya know!)
Short sleeves, on the other hand, are great for summer days or casually dressing up. They also look very chic and can be paired with bold accessories to make a bolder statement. 
For a smooth look for both styles, make sure to pick the right length that falls just above your knees. This will help to elongate your silhouette and give you a more streamlined look.  
Q: Can I combine t-shirt dress with a trench coat?
A: Absolutely! Combining a t-shirt dress with a trench coat is a great look if you want to add more structure and sophistication to your t-shirt dress. Go for a classic beige trench coat and pair it with black or nude heeled sandals for an elegant look. A nice scarf or bold jewelry can also help you stand out from the crowd. 
The same goes for leather jackets — they are also great for achieving a more polished look. Choose one in the same color palette of your dress and pair it with some stylish ankle boots. This will give you that trendy, street-style vibe that looks effortless yet chic at the same time. 
Q: Is it worth it to invest in a good-quality t-shirt dress?
A: Yes, definitely! Quality materials will ensure that your t-shirt dress lasts longer and stays looking new for longer. Look for items made from natural fibers such as cotton, linen or silk – these are usually more breathable and comfortable to wear. 
If you have a capsule wardrobe, investing in a few good-quality pieces is worth it. They will be your go-to items for years to come and you don't have to worry about them going out of style any time soon. Plus, they can easily be accessorized and dressed up or down depending on the occasion. 
The Editor's Note
As a big fan of t-shirt dress for its comfort and versatility, especially for a plus-size body, I'm beyond thrilled to put together this guide for all of you. 
Yes, it's a casual dress that may look too simple at first glance, but with the right accessories and styling, you can easily turn it into an effortless yet stylish outfit for any occasion. 
There are endless possibilities with t-shirt dresses, so don't be afraid to experiment and have fun with it! For example, a white t-shirt dress will bring a subtle contrast when paired with bright accessories. Just combine it with black heels and you will look effortlessly chic in no time. 
Trust me, once you find the perfect t-shirt dress for yourself, it'll quickly become your best friend and go-to outfit when all else fails! So don't wait any longer – grab one (or two!) today and see how easy it is to create a stunning figure-flattering look with just a few simple pieces. 
Remember, confidence is key — no matter what type of body shape or size you have. So make sure to choose the right pieces that make you feel powerful and beautiful!